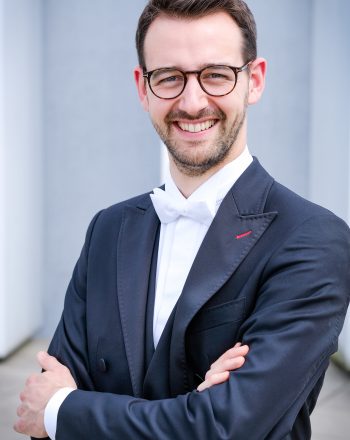 Tobias Wögerer, born in 1991 in Linz, is the winner of the 10th MDR conducting competition and has been the assistant conductor of the GUSTAV MAHLER JUGENDORCHESTER since the 2018/19 season. From September 2022 he will be "Conductor in Residence" at the Volksoper Wien.

After finishing his studies in Cello in Salzburg and Vienna, he went on to study orchestral conducting at the Hochschule für Musik Franz Liszt in Weimar with Nicolás Pasquie und Ekhart Wycik and at the Zürcher Hochschule der Künste with Johannes Schlaefli. Master classes with conductors such as Paavo Järvi, Ole Kristian Ruud, Peter Gülke and Mark Heron are completing his musical education.
Tobias Wögerer has received numerous invitations to conduct renowned orchestras. He has conducted the Gulbenkian Orchestra Lisbon, the Staatskapelle Weimar, the Wiener Symphoniker, the Bruckner Orchester Linz and the Berner Symphonieorchester.

He has also collaborated with renowned artists such as Angela Denoke, Günther Groissböck, Benjamin Benjamin Schmid, Olga Scheps, Anika Vavic and Nikolai Tokarev and has given concerts throughout Europe, China, and Japan.

At the young age of 25, Tobias Wögerer led his first opera production at the international Brucknerfest Linz. Already in 2013, he founded the "Symphonic Ensemble Aktuell with which he regularly realizes large concert projects. In 2017-2019 he was the musical director Opera Camps of the Vienna Philharmonic at the Salzburg Festival, and he was appointed artistic director of the Austria-wide Jeunesse Orchestra Camp in summer 2019.

In 2019, Tobias Wögerer celebrated his appointment as assistant conductor of the GUSTAV MAHLER JUGENDORCHESTER with two successful concerts in Lisbon. In 2020, he led the orchestra's summer tour through Italy. His position as assistant conductor enabled him to work closely with such greats as Herbert Blomstedt, Daniele Gatti, Manfred Honeck and Jonathan Nott.
Tobias Wögerer won the conducting competition of the MDR-Sinfonieorchester in December 2019 and made his concert debut with the orchestra in spring 2021. A special highlight of last season was his debut with the Wiener Symphoniker as part of the "Wohnzimmer-Konzerte" at the Vienna Konzerthaus.

After a first successful collaboration with conductor Mirga Grazinyte-Tyla in July 2021, he assisted her in a production of Leoš Janáček's opera The Cunning Little Vixen at the Bayerische Staatsoper in January this year. Furthermore, Tobias Wögerer conducted a production of Peter Maxwell Davies' The Lighthouse at the Deutsches Nationaltheater Weimar and will assist Teodor Currentzis during the Salzburg Festival in summer 2022.

In his new position at the Voksoper Wien, he will conduct performances of The Magic Flute, La Traviata, The Merry Widow and La cage aux folles. He will also make his debut with the Tonkünstler Orchester Niederösterreich and will return to the Bruckner Orchester Linz.

June 2022

Klaus Leherbauer
01.10.2021
20:00
Musikfestspiele Saar
Industriekathedrale Alte Schmelz, Saarbrücker Str. 38N
30.08.2020
20:30
Pordenone - Teatro Comunale Giuseppe Verdi
Teatro Comunale Pordenone, Viale Franco Martelli
29.08.2020
20:30
Pordenone - Teatro Comunale Giuseppe Verdi
Teatro Comunale Pordenone, Viale Franco Martelli
29.08.2020
20:00
Dresden - Semperoper
Semperoper Dresden, Theaterplatz 2
21.08.2020
20:30
Bolzano / Bozen - Nuovo Teatro Comunale / Stadttheater Bozen
Teatro Comunale Bolzano, Giuseppe-Verdi-Platz, 40
18.08.2020
21:00
Trieste - Castello di Miramare (Open Air)
Castello di Miramare, Viale Miramare
17.08.2020
21:00
Lignano Sabbiadoro - Duomo di San Giovanni
Duomo di San Giovanni, Parco S. Giovanni Bosco 35
13.08.2022
20:30
Gemona - Duomo
Duomo di Santa Maria Assunta, Via Giuseppe Bini, 33
12.08.2022
20:30
Gorizia - Teatro Comunale Giuseppe Verdi
Teatro Comunale Giuseppe Verdi di Gorizia, Via Giuseppe Garibaldi, 2A
16.08.2019
20:30
Majano - Snaidero
Snaidero , Viale Rino Snaidero Cavaliere del Lavoro
15.08.2019
20:30
Aquileia - Basilica
Basilica di Aquileia, Piazza Capitolo, 1
28.02.2019
20:00
Lisboa - Fundao Calouste Gulbenkian
Lisboa - Calouste Gulbenkian Foundation, Av. de Berna, 45A
25.02.2019
20:00
Lisboa - Fundao Calouste Gulbenkian
Lisboa - Calouste Gulbenkian Foundation, Av. de Berna, 45A